As the Controlled Environment Agriculture (CEA) industry grows in Europe, so does the opportunity for companies around the world to expand into European markets. U.S.-based companies may find that many of the concepts, equipment, and design principles used in America translate to the European market. The maturity of the American CEA market — its heavily tested experience and well-honed best practices — presents an opportunity for European growers to get to market faster and with fewer hiccups along the way. In this blog, we'll explore the similarities and differences between U.S. and European commercial grow facility design and operation.
Differences in European Commercial Grow Operations
Regulations
While the U.S. industry gets bogged down by complex state-by-state regulations, the EU takes a different approach. Most European countries view cannabis as a medical product, and its cultivation is regulated like a pharmaceutical factory. The European Medicines Agency (EMA) operates similarly to the U.S. FDA, providing a uniform standard called Good Manufacturing Practice (GMP) that operators must comply with. Further, a Good Agricultural Practices (GAP) standard was developed for the EU market to ensure that cannabis harvests will be of a consistent quality suitable for pharmaceutical use. This is simply a standard to help growers adhere to best cultivation/harvesting practices.
Laws
Not all European countries have approved medicinal or recreational use, much like the United States. While only a handful of countries allow cultivation for medical purposes, regulations are changing constantly. Within the EU, a country that allows medical cannabis use may import it from any country in compliance with the European standard. Because of the different approaches to cannabis cultivation in the EU, commercial growers are able to focus on product quality, distribution, and process rather than battling the regulatory restrictions many American growers face.
Standardization
The U.S. lacks industry standardization (many regulatory requirements are implemented and overseen at the state level), while the EU started with it. This difference alone removes many of the barriers to entry experienced by cultivators in the U.S.
Major Similarities between the U.S. and European Commercial Grow Facility Design
Cultivation Space Programming
There shouldn't be significant differences between cultivation space programming in the U.S. and European operations. The same principles apply in either scenario: grow rooms should be designed for the cleanest and most efficient operation that is possible. However, in Europe, many of the current parameters around cultivation space planning are designed to comply with the Good Agricultural and Collection Practice (GACP) and Good Manufacturing Practice (GMP) certification standards.
Systems Design
As with an American commercial grow, European grow facilities will benefit from integrated cultivation systems that ensure optimal plant performance and yields while conserving energy and reducing water consumption. Peak yields and GAP-level crop quality is achievable through holistic designs that integrate all key systems (benching, fertigation, HVAC, lighting, water/wastewater, and continual facility optimization). As always, staying competitive in an evolving market means investing in sustainability, efficiency, and minimizing operating expenses. This is accomplished by using purpose-built equipment rather than conventional systems designed for other applications.
Large Square Footage to be Designed
In Europe, as in the U.S., it's better to have a smaller, well-built growing facility than a poorly-built large one. Forget maximizing canopy size, instead build to your budget, investing in a premium facility with the right environmental controls. Prioritizing excellent mechanical equipment over maximum canopy will produce a much faster ROI, making it easier to pass the rigid regulatory inspections in the EU. Large square footage can be designed to be built in phases, making it easier to manage cash flow and assess demand while refining internal processes.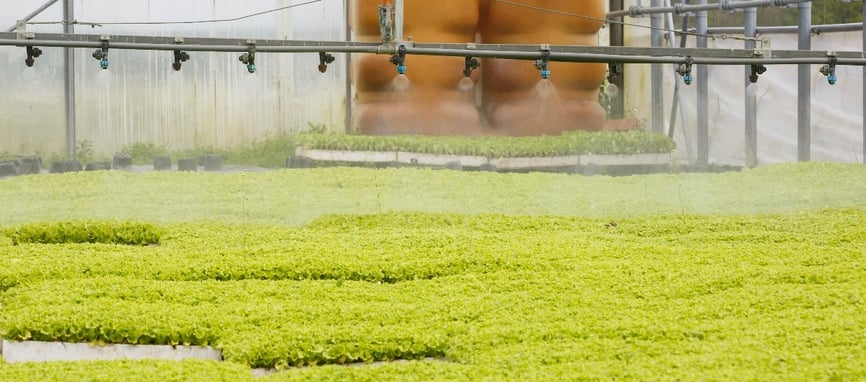 Single-Tier vs. Multi-Tier Facility Design
Factors such as your building type, budget, and production goals will largely factor into whether you should build a single or multi-tier design, regardless of which country your operation is in.
Growth in European Commercial Grow Markets
Several countries in the EU, such as France and Germany, are currently running clinical trials on medical cannabis, and more are sure to follow. European countries are moving toward regulation of cannabis at a tremendous pace, and many are eager to allow citizens to use both medical and recreational cannabis.
As countries like Portugal and the Netherlands adopt American and Canadian Grow Facility Best practices standards, it makes it easier for commercial growers to set up shop in European locales. Public support in favor of legalizing medical and recreational cannabis is growing worldwide, and all eyes are on the EU. Although it is no longer technically a part of the European Union, Britain is also beginning to warm to legal commercial cannabis cultivation. In 2021, the UK issued the second of only two licenses to grow medical marijuana that has been granted in more than 20 years.
There is no question: the countdown for American expansion to European markets has begun. If you want to learn more about how you can get in on the action, get in touch with an urban-gro expert today. Get "gro‐ing"!