As increasing natural resource scarcity and a growing population demand sustainable food and farming solutions, the indoor vertical farm model has emerged as a way to localize food production in a controlled environment. These facilities are capable of producing food in closer proximity to consumers, thereby decreasing costly food miles and affording access to fresh produce in regions that otherwise may be unable to enjoy such a commodity. Despite some of the obvious benefits, vertical farm facilities are incredibly complex, requiring strict environmental controls to create and maintain an optimal growing environment that operates 24/7 throughout the year.
Below, we'll break down key considerations and requirements specific to indoor vertical farms from facility concept through operation. We'll explore the benefits of a turn-key design-build process to understand how it can improve your speed to market and overall efficiency through collaborative integration.
CHAPTER 1
What is Indoor Vertical Growing?
Understanding indoor vertical growing means first understanding a little bit about indoor agriculture— something that has been around since the 1970s when indoor growing began to move beyond greenhouses. It's a production method in which producers grow crops in a completely closed, controlled environment capable of supporting those crops throughout their entire lifecycle.
While the technology has been around for a long time, indoor farming has experienced a boom in popularity over the past two decades—thanks in part to the falling price of LED lighting. Not only can this technology produce all the light a grow facility needs, it does so while consuming far less electricity than other types of lighting. Between 2008 and 2015, LED prices dropped as much as 94%, making it more affordable to build indoor farms.
The increased affordability of LED technology has helped pave the way for other related innovations, one of which is the method of growing vertically. Vertical growing—quite literally—adds another level to indoor farming. Rather than relying on a single layer of crops spread out across floor space, producers stack crops above one another, vastly increasing the canopy square footage potential without impacting the building footprint.
This production method has become particularly popular in Europe, where it's expected to continue to gain momentum. As of 2020, the global vertical farming market was worth $5.5 billion—but by 2026, projections estimate that it will be worth approximately $19.86 billion. Hydroponics is by far the most common growing system in vertical facilities, but some facilities use aquaponics or aeroponics.
Producers grow a variety of produce, including but not limited to: leafy greens, berries, peppers, eggplants, cucumbers, and melons. Suitable crops need only be relatively short in stature with growth habits that lend themselves well to indoor lighting and hydroponic systems. Crops with shorter production cycles also tend to be more efficient and profitable as they harvest more frequently using the same amount of lighting, climate control, and other needed resources.
CHAPTER 2
Benefits of Indoor Vertical Growing
Compared to traditional agricultural practices, vertical indoor growing has numerous advantages. These features benefit not only the communities in which the facilities are built but the broader environment as well.
Food Security
Food security is an important benefit. All kinds of factors, from economic to environmental, can throw regional food supplies into chaos. Economically underdeveloped areas often struggle to bring in what they need consistently. Elsewhere, food shortages can be caused by events such as supply chain shortages, shipping delays, or even storms that cause significant damage to outdoor crops.
Indoor vertical farming solves these issues with a precisely controlled environment. It's capable of bringing ideal growing conditions to climates that otherwise can't support crops. This means indoor farms are capable of feeding people in places where food may be scarce. Because these farms can be located within cities and population-dense areas, it's also a good way to keep food close—and thus minimize shortages due to weather, shipping delays, or other temporary disruptions.
Sustainability
Farming, whether inside or outdoors, is an energy-intensive process; however, there are several ways in which vertically farmed food can be more sustainable than traditionally grown products.
Indoor agriculture supports water preservation. In a typical crop field, much of the water used to water the crops is lost to runoff and evaporation. Indoor farming systems use much less water than traditional growing, water can be captured and reused, and evaporation is minimal.
Indoor farming consumes fewer resources for planting and harvesting—especially fossil fuels. Outdoor farms typically rely on tractors and other machinery, whereas indoor farms consume only electricity—and that electricity can come from sustainable sources like solar and wind.
Indoor farming keeps food closer to the consumer—reducing waste in several different ways. Less fuel is consumed to transport goods across short distances versus across the country. Additionally, wholesalers and retailers don't need to rely as much on preservatives or wasteful packaging to keep food safe and fresh over longer distances.
All-Season Growing
Indoor farming allows producers to maintain a variety of crops, no matter the season. This is particularly beneficial in more extreme climates where growing seasons might be too hot or too short. Indoor vertical farms can ensure that communities have various products to choose from, no matter the weather or proximity.
You're aware of the impact vertical grow facilities can have on your community—and now it's time to get started. With experience in more than 500 CEA facilities around the world, urban-gro can help you design and optimize a facility for controlled environment agriculture.


CHAPTER 3
Selecting a Facility or Site
One of the remarkable things about indoor vertical farming is that many spaces can be retrofitted into a grow facility. You'll find people converting everything from old warehouses to shipping containers into vertical growing spaces.
However, just because you can doesn't mean that you should. One of the reasons why indoor growing is a sustainable option is because it makes the growing process as efficient as possible—and thus, the site that you select should be able to support that without excessive retrofitting.
Here are some critical factors to consider when selecting the ideal site or facility:
Zoning: This will be your first and foremost concern. If zoning laws prohibit agricultural activities, you'll need to look for a new area with farm-friendly zoning.
Location: Beyond zoning, location is essential for several reasons. Can you efficiently transport goods in and out of the location? Can workers access it easily? Is it large enough to scale up to your needs?
Water Access: Will you have a guaranteed supply that can produce everything your facility will need at a cost-effective price? Look into water regulations, access regulations, and costs in your area.
Energy Sources: Much like water, you'll need access to electricity—and you'll need to account for a backup system to keep things running during outages, too. Estimate the facility's electrical needs, evaluate local utility prices and check power sources. Are there rebates available? Do area utilities use solar, wind, or fossil fuels? Is it possible to generate your own power?
Start the process with an early cost analysis that features high-level conceptual budgeting. Then, create models to simulate the expected revenue per crop and balance that revenue against expected expenses—utilities, water, labor, maintenance, leasing fees, etc.
With all of those considerations in mind, there's the facility itself to take into account. Depending on your budget, region, and goals, you may consider a purpose design and built facility from the ground-up, or you may look to repurpose an existing building—like a warehouse or a dormant factory.
The ideal site will be one that can support sustainable farming with minimal retrofitting. Expect to reroute plumbing and electrical to support agriculture extensively, but the building should be structurally sound. Conducting a carbon footprint audit can also lend insight into overall building efficiency. For instance, a building may not be insulated well, which means you could use enormous amounts of energy to keep the climate controlled properly—or you may need to invest more than anticipated to repair and upgrade the building's thermal envelope.
CHAPTER 4
Planning the Space
When planning a vertical farm, the main goal needs to be maximizing your revenue-producing space while staying within regulatory requirements and compliance standards. Regarding compliance, it's important to familiarize yourself with USDA and FDA requirements to learn more about federal regulations that you may be subject to and educate yourself on local regulations. Building codes, zoning laws, and health department codes are all things that can vary from place to place—and they can affect everything from how your facility needs to be designed to standard operating procedures you'll need to follow during daily operations.
Once you've accounted for local, state, and federal regulations that may affect your design, it's time to identify ways to reduce the square footage of underutilized spaces. If you're retrofitting an existing building into a vertical grow space, you'll need to evaluate that space carefully.
Can you build upward? Going vertical represents an opportunity to increase crop square footage but can also introduce microclimate challenges that can be difficult to address.
Can rooms be converted into useful spaces for growing, warehousing or equipment?
Is it possible to remove walls to make spaces more useful, or are they structural walls that will subdivide the space too much?
These are some of the factors to consider—and during the planning stages, it's also useful to consider the interaction between the three Ps: people, plants, and products. These are guidelines that help ensure facilities operate smoothly and in a healthy and safe manner.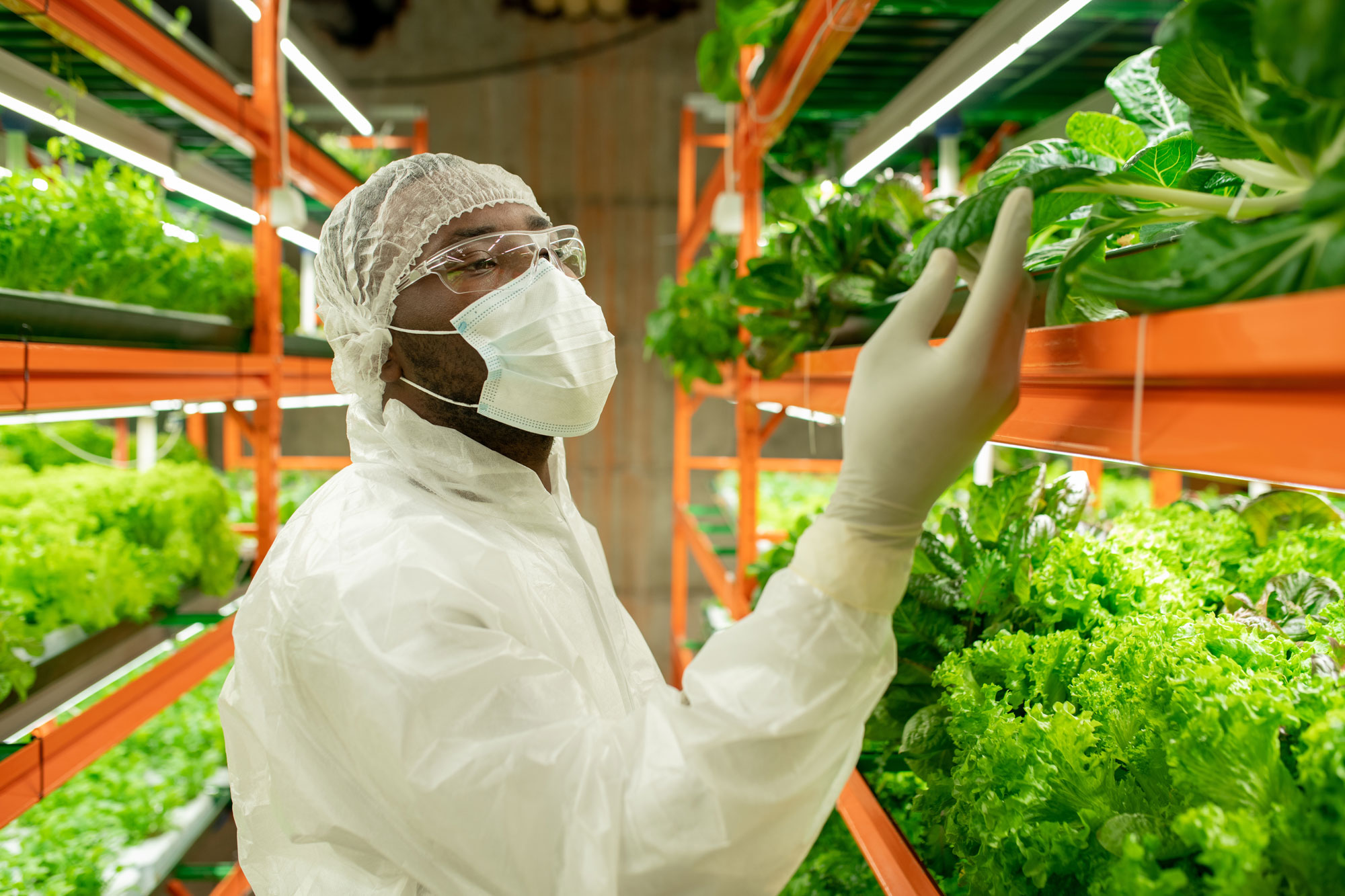 People:
Ensure the facility provides a safe working environment designed to help staff be as productive and efficient as possible.
Plants:
The facility needs to be able to support a variety of crops with consistent and optimized environmental conditions to promote healthy growth.
Products:
You'll rely on a variety of products to support plant yields. It's important to be sure that any products used are applied in compliance with regional regulations.
CHAPTER 5
Designing the Space
Once you've outlined a basic plan, the design phase can get underway—and it should start with defining your vision, goals, and methodology. Consider:
Market demand within your area and the types of crops you can produce to fill that demand.
Whether you plan to wholesale or retail your products, it can affect how you ship and package them.
The intended scale for your operation. Some indoor growing facilities are designed to serve small communities, but others may be large enough to serve bigger regions or metro areas.
The methodologies you'll use in production including, but not limited to: cultivation, propagation, and aquaponics methods.
Each of these factors will all play a part in your eventual design. What's more, once you've selected crops that you intend to produce, you will need to dig deeper to determine the environmental requirements for optimal growing conditions—and the equipment and resources you'll need to replicate that climate consistently.
During the design process, you should also create yield and revenue projections. This helps you keep costs balanced, ensuring that your yield is large enough to generate the revenue needed to keep you profitable.
CHAPTER 6
Building Out the Space
Once the design and engineering stages are complete, it's time to build. By this point, you'll have selected a contractor and will either manage the project yourself or elect a turnkey approach. Going with a turnkey provider offers many advantages to ensure collaboration between stakeholders and disciplines, the timely delivery and installation of equipment, mitigation of change orders, and more to help your project flow smoothly. We'll explore some of those benefits below.
Stakeholder Collaboration
When you're utilizing a turnkey method, you'll be working with a contractor who will handle everything for you—and that includes collaboration with all stakeholders involved in your project. This can help streamline communications between investors and individuals within collectives or cooperatives.
Architect-Led Design-Build Process
Having an architect lead the design-build process is another tremendous advantage. Leveraging the architect's experience will ensure that your design will maximize space and create functional flow within your facility. It also means that the architect will have input throughout the construction process, which helps to ensure that the original design intent is realized.
Change Order and Budget Escalation Management
Few projects incur zero unanticipated changes that may result in a change order, but it's important to proactively manage these circumstances to control the budget and schedule. Working with a turnkey design-build contractor helps to simplify this process.
Construction Management
Regardless of facility size, you'll need a wide variety of subcontractors to bring your vertical farm vision to life. Electricians, plumbers, and aquaponics specialists will be at the top of your list, but you'll also need general building contractors to perform retrofits and upgrades.
Altogether, there are many contractors, consultants, specialists, and groups to manage on your own. Timing and coordination are everything. For instance, you may need general building contractors to begin work on walls and floors, but in the middle of the process, while walls are still open and accessible, you'll need to call in the electricians and plumbers who need access to those cavities to install your facility's systems.
Through the turnkey approach, the general contractor can provide construction management services and ensure this coordination happens seamlessly and with minimal disruption to the schedule.
Facility Commissioning and Systems Integration
Toward the end of the building phase, you'll need to start integrating your lighting and grow systems, which can be a complicated process that requires a lot of testing ahead of building commissioning. Additionally, it's a process that you have to get right to ensure that your systems are functioning as they should be—particularly in an indoor growing environment where conditions need to be tightly controlled.
Working with an organization that offers turnkey facility solutions removes this burden from your shoulders. The organization will handle systems integration and commissioning to make sure everything is working as it should be so that you can be operational sooner.
Once your facility is complete and your crops are growing, you'll realize the benefits of working with an organization that can take you through the entire design-build process. One of the keys to success is maximizing efficiency in every way possible. Relying on experts throughout the process leads to a facility that produces high-quality crop yields with minimum wasted resources. You should be able to maintain projections and scale up as needed.
Once your vertical growing facility is up and running, the need to monitor and evaluate your facility continues on an ongoing basis. You'll need to do ongoing facility optimization, checking for inefficiencies and areas that can be improved. This helps you keep harvests predictable and scalable— leading to higher yields and profits.
Start Your Indoor Farming Project
We can guide you through the process from architecture and engineering to systems integration and operational support.
Work with Professionals Specializing in Controlled Environment Agriculture
Food-focused controlled environment agriculture features a lot of nuances. The details that go into designing and building a facility that will remain profitable for years to come can become overwhelming. While it is possible to tackle the project yourself, you can ensure that these details are not overlooked, and the project is a success by working with the experts at urban-gro.
Start Your Indoor Farming Project
We can guide you through the process from architecture and engineering to systems integration and operational support.