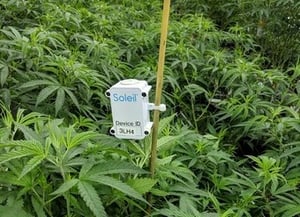 Terpenes and Testing Magazine highlighted urban-gro and Soleil Technology in an article interview with urban-gro's Director of Environmental Sciences, Todd Statzer. Author Jason S. Lupoi, Ph.D., discusses the importance of understanding and balancing the many variables in the grow environment.
THE FOLLOWING ARTICLE OUTLINES NUMEROUS VARIABLES TO UNDERSTAND AND HOW TO BALANCE THEM FOR A SUCCESSFUL CULTIVATION ENVIRONMENT
We've all likely had the feeling of anxiety or at least intrigue at what goes on when it's dark. Walking down a country, gravel road in the darkness of night should cause some unsettling sensations, especially when you hear the snorts of menacing nocturnal fauna which may or may not be deer. Or, if you're like me, and are currently combating 17-year cicadas, perhaps your pondering what 1.5 million insects per acre do when the sun goes down after being underground for the last 17 years.

Regardless, with the dawn of a new day, comes the light of the sun to make everything okay again. Light illuminates, and light brings life. Plants utilize light in their photosynthetic processes (photo = light). As plants take in light and carbon dioxide, the wonderful by-product we know as oxygen is given off, much to the joy of humanity. But not all plants are grown outdoors, for any number of reasons, including environmental factors, such as climate, or, in the case of Cannabis sativa, perhaps due to decades of dogmatic drivel having caused farmers to seek indoor sanctuaries.

When moving the cultivation away from natural sunlight, alternative lighting must be employed to induce photosynthesis. There are various options available, so finding a vendor who can help navigate through those choices is paramount to a successful, healthy harvest. I spoke with Todd Statzer, Director of Environmental Sciences at urban-gro about the options for lighting, and what they recommend to their customers.
Read the full article on Terpenes and Testing Magazine.