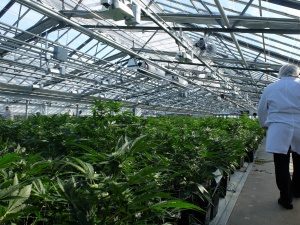 Are you ready for a greenhouse? urban-gro's cannabis lighting product expert and VP of Lighting Product Solutions, Shelly Peterson will be presenting at the Spring Marijuana Business Conference & Expo in Orlando, FL taking place May 9 – 11, 2016 in Orlando, FL. Her topic is "All the Rage: Converting to a Greenhouse." If you are wondering why only now, has greenhouse growing become the rage, here are some thoughts to ponder in advance of hearing Shelly speak at the show.
Take for example, indoor growing has become a standard practice among growers for a number of reasons. First and foremost, in that it was (and in many places, still is) an illegal crop was grown in small batches basements. For that reason alone, growers advanced the techniques of growing Cannabis plants indoors with artificial lighting.
As the laws started to change allowing for the legal growth of medical marijuana, and eventually recreational, there was still some trepidation as it still remained illegal at a federal level. Moving growing from the basement to an all steel indoor warehouse space with total artificial light made sense. Warehouse space was readily available, easily procured, and set up with minimal retrofitting and the ability to take on a reasonably short lease. With rapidly changing laws that left a lot of uncertainty, inexperienced management, lack of experienced large-scale growers, and novice Cannabis investors, this all seemed like the best way to invest and grow.
With only a few states online the price of the cannabis crop remains high relative to other agricultural products. However, after receiving a $6 Billion annual electricity bill, those who promote Cannabis as a natural and socially responsible product are forced to think again. To put that number into perspective, growing in a warehouse costs between $50 - $65 per square foot. Not only is it good for business to reduce the cost of goods sold (COGS) but also good stewardship to look for better ways to grow. For example, companies like ourselves here at urban-gro are bringing the best practices and products from the commercial horticulture industry to the cannabis industry.
The next frontier for responsible and profitable Cannabis growing will be the greenhouse grow. Greenhouses are definitely going to be worth it because growers should be harnessing the energy of the sun. Not only does this move reduce the impact on the power grid but it reflects the openness that is now surrounding the industry as the movement to legalize gains momentum across the United States. Which in turn boosts investor confidence, which is a critical element in securing the upfront capital to make the kind of long-term commitment required in securing property that is appropriate for designing and building a greenhouse facility. In fact, greenhouses have a significantly lower cost of cultivation, higher crop yields, and reduced initial capital cost for building, especially when lighting alone is half the cost of a warehouse build. In a similarly designed greenhouse in Colorado, the total utility cost would be 25% of a warehouse, resulting in a 75% savings.
Greenhouse growing still needs to be built or retrofitted to suit the unique needs of Cannabis including reading the natural light levels which change throughout the year and supplementing only what is needed, yet having a system designed to accommodate for the lowest sunlight levels of the year. It is also important that the light fixtures themselves don't create any shadowing on the plants when the sun is shining. There also needs to be the ability to control and adjust humidity levels within a greenhouse otherwise the Cannabis plants can be susceptible to mold, mildew and other pest issues.
The good news is that architectural design, engineering and advanced computer monitoring can aid in the build out and management of a greenhouse facility. The upfront costs may be more because someone has to commit to buying and building out the property and providing the necessary security, but the vastly lower electricity bills will make it worth the while, and the opening laws make growing out in the open, or at least in natural sunlight, more of a reality than ever before.
We invite you to hear more about this issue from our lighting product expert Shelly Peterson at the show. We will also be at Booth #700 on the trade show floor.