urban-gro announces release of new LED Portfolio for the Cannabis Industry
New HortiLED Line by Partner PL Light Systems launching in the United States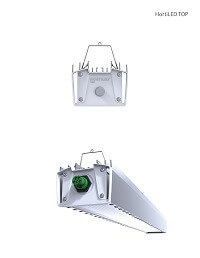 Lafayette, Colo. (February 3, 2016) – Cannabis growers have faced a perennial issue: save money with LED lighting but risk yield, or get great yield along with astronomical energy bills. Now the latest technology hitting the market means growers will not have to choose. urban-gro, a leading value added reseller of the best product solutions for the commercial cannabis cultivator, has announced the release of a new LED product line by lighting partner PL Light Systems. The HortiLED line launched in Europe by parent company Hortilux Schréder in January will soon be available through urban-gro to the Cannabis industry in North America. urban–gro is a key U.S. distributor for PL Light Systems for the cannabis industry. PL Light, based in Holland and Canada, has been the leader in the professional horticulture market for almost 40 years, and develops and manufactures the most advanced horticulture fixtures in the sector.
"urban-gro has been tracking LED technology closely, and PL Light's HortiLED is a game changer," noted Shelly Peterson, Vice President of Lighting Sales. "HortiLED will finally offer growers an effective LED solution with the perfect combination of high performance and energy savings."
The HortiLED fixture has an efficiency level of 2.7 µmol/Joule, while the current 1000 watt HPS products achieve only 1.9. This implies a 42% higher efficiency compared to HPS, which results in significant energy savings. The HortiLED line, which ensures growers can achieve the same lighting performance as traditional sources with all the benefits of LEDs, comprises three products: HortiLED Top, HortiLED Inter and HortiLED Multi. HortiLED Top is a versatile LED fixture that is suitable for top lighting of all types of crops. The HortiLED Inter has been specially designed for highwire cultivation of greenhouse vegetables and has a reflector design that ensures that the light is distributed on the top side of the leaves. The HortiLED Multi has been specially developed for multi-layer cultivation, growth chambers, air-conditioned containers, tissue cultivation and dimmable experimental set-ups.
Peterson continued, "The new HortiLED products are designed to deliver the best possible lighting performance to maximize yield and benefit from LED's energy efficient attributes. We know how important it is for growers to have a cost-effective, power-saving light with the correct intensity to maximize plant yield. This new line by PL Light Systems will ensure growers get the best solution for their facility."
For more information or to schedule an interview, please contact Shawna McGregor, 917-971-7852 or shawna@rosengrouppr.com.