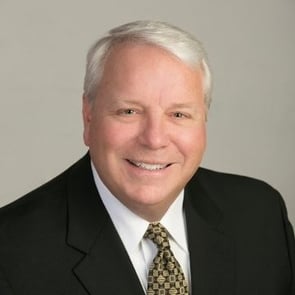 Akright brings financial controls expertise for publicly traded companies, including financial reporting requirements, budgeting, and forecasting
FOR IMMEDIATE RELEASE
Lafayette, Colo., (August 14, 2019) – urban-gro, Inc., a leading agricultural solutions and technology company that works with leading commercial cannabis cultivators around the world, is pleased to announce the appointment of Richard (Dick) Akright as Chief Financial Officer (Interim), effective August 9, 2019.
"With career experience spanning from Deloitte & Touche to CFO roles in both privately held and publicly traded companies, Dick is a natural fit for urban-gro as a publicly trading company. Throughout the past several months, Dick has contributed to the urban-gro team as an engaged, hands-on leader," says Bradley Nattrass, CEO of urban-gro. "As Dick formally steps into the CFO role, we express our gratitude to former CFO Bob Pullar for his contributions to the company and wish him the best in his future endeavors."
Dick's experience working with executive teams to improve operating performance, negotiate bank financing, interact with external audit firms, and evaluate acquisition opportunities will benefit urban-gro significantly in the weeks and months ahead. Dick will be responsible for overseeing financial reporting requirements for all urban-gro business platforms, as well as financial controls, budgeting, and forecasting that will enable urban-gro to fully utilize its financial resources, while providing value for investors.
"Having offered financial consulting for urban-gro since spring 2019, I have seen a company that is committed to ongoing improvement and the adoption of best practices to ensure the company's value is maximized for investors," says Dick. "I look forward to working with the leadership and accounting teams to build upon the existing infrastructure."
ABOUT URBAN-GRO
urban-gro is a leading agricultural solutions and technology company focused on serving commercial cultivators around the world. By combining its four business platforms—cultivation systems & design, cultivation optimization & technical support, environmental science, and technology—urban-gro provides integrated solutions for today's commercial cannabis cultivators. The company's technology platform, Soleil®, delivers micro climate intelligence using wireless, high-resolution sense technology. Cultivators are able to use the data reported to take action to protect their high value crops and optimize operations. urban-gro is recognized as one of the cannabis industry's fastest growing companies. Visit urban-gro.com and soleiltech.ag to learn more. Follow urban-gro on Instagram, Facebook, Twitter and LinkedIn. Follow Soleil on Instagram.
Safe Harbor Statement
This press release may contain forward looking statements which are based on current expectations, forecasts, and assumptions that involve risks and uncertainties that could cause actual outcomes and results to differ materially from those anticipated or expected, including statements related to the amount and timing of expected revenues and any payment of dividends related to our financial performance, expected income, distributions, and future growth for upcoming quarterly and annual periods. These risks and uncertainties are further defined in filings and reports by us with the U.S. Securities and Exchange Commission (SEC). Actual results and the timing of certain events could differ materially from those projected in or contemplated by the forward-looking statements due to a number of factors detailed from time to time in our filings with the Securities and Exchange Commission. Among other matters, we not be able to sustain growth or achieve profitability based upon many factors including, but not limited to, general market conditions. Reference is hereby made to cautionary statements set forth in our most recent SEC filings. We have incurred and will continue to incur significant expenses in our expansion of our existing and new service lines, noting there is no assurance that we will generate enough revenues to offset those costs in both the near and long term. Additional service offerings may expose us to additional legal and regulatory costs and unknown exposure(s) based upon the various geopolitical locations where we will be providing services, the impact of which cannot be predicted at this time.
For media inquiries, please contact:
Press Contacts:
Barbara Jacobs
urban-gro, Inc.
barbara.jacobs@urban-gro.com
720-390-3880