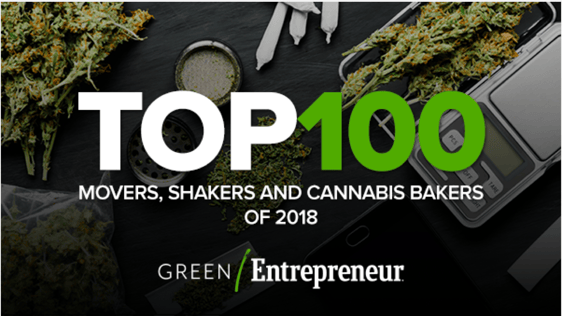 Green Entrepreneur Releases its 2018 List of the Top 100 Cannabis Leaders
urban-gro, a leading cultivation systems integrator and agricultural technology firm for commercial cannabis cultivators around the world, has been named to Green Entrepreneur's Top 100 List of Movers, Shakers, and Cannabis Bakers. Produced by Green Entrepreneur and PRØHBTD, the list is a celebration of leading entrepreneurs and companies who are fighting to change social perceptions, seek innovative solutions, and build the multi-billion dollar cannabis industry.
ABOUT URBAN-GRO urban-gro provides industry leading cultivation equipment, crop management products, design & integration services, and technology solutions to commercial cannabis cultivators throughout North America and around the world. urban-gro helps growers achieve sustainable scalability via innovative technologies that drive down cost, increase economic yield, and reduce environmental impact. Not only is urban-gro recognized as one of the Cannabis industry's fastest growing companies, the firm is developing its own innovative cultivation technologies to optimize efficiencies and maximize ROI. Visit www.urban-gro.com to learn more.
Follow us on Instagram, Facebook, Twitter and LinkedIn.
For media inquiries, please contact: Barbara Jacobs urban-gro, Inc. Barbara@urban-gro.com Tel: +1 720-390-3880 x131