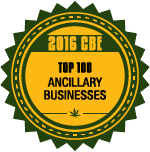 urban-gro is ranked as the United States' #19 Ancillary Business by Cannabis Business Executive in its list of the 100 Top Ancillary Businesses of 2016. The list was released June 6, 2016.
"urban-gro is honored to be recognized for our work as we help commercial Cannabis Cultivators across the United States. What's our secret sauce in achieving this honor? It's quite simple: we bring together the best minds and products so that Cannabis Cultivators are supported through all phases of the grow process with the best products and support in the industry," says Brad Nattrass, CEO of urban-gro.
Do you want to meet and discuss your commercial Cannabis grow facility? Please call us, or visit with us at the following events:
NCIA's Cannabis Business Summit & Expo 2016 in Oakland from June 20-22 (Booths #122-123)
urban-gro will also speak at the Imperious Expo in Tacoma, Wash., July 20-21
Southwest Cannabis Conference San Diego August 6-7 and Phoenix Oct. 22-23
urban-gro will participate at the Fifth Annual Marijuana Business Conference & Expo, November 16-18, Las Vegas, Booth #501.