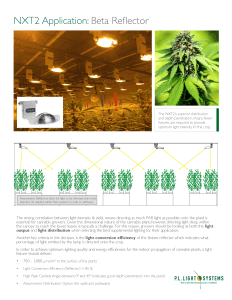 When looking at supplemental lighting, growers should look at lighting output and light distribution as this lighting intensity will provide the greatest yields. But, while lighting output and light distribution are important metrics, light conversion efficiency is also a strong indicator of a successful grow set-up.
Recent analysis by an independent NVLAP accredited lab shows that the NXT2 leads the competition in lighting for cannabis crops. The testing shows that the NXT2 lamp provides 97.4% light conversion efficiency…well head of three competitors ranging from a meager 80% to 90% lighting efficiency.
What lighting solution do you have in place? Is your lighting solution the best it can be? Consider the NXT2 to improve your yields, or you might be leaving money on the table.
You can read the full study here.