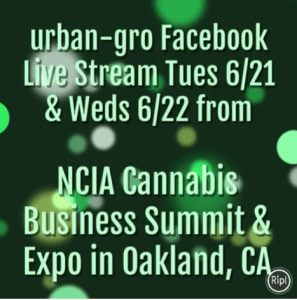 urban-gro's team of product experts have started recording and posting live streaming videos. Mark Doherty, the Director of Sales, Eastern Region has shared his insights at conferences from Home Grown in Maine to Marijuana Business Conference and Expo in Orlando, Florida and from on the road around the North East.
From Tuesday, June 21 through Wednesday, June 22 we will be broadcasting with Facebook Live from the NCIA Cannabis Business Summit & Expo in Oakland, CA.
We will be coming online throughout the conference to cover topics about urban gro, new trends, conference take-aways, as well as a surprise guest. The broadcasts will take place between the breakout sessions with an end of day wrap up on Tuesday and an end of conference wrap up on Wednesday.
These videos will feature our own Shelly Peterson, Vice President of Light Product Solutions and J. Chandler, Vice President of Cultivation Technologies as well as Todd Friesen, Regional Sales Manager - Rocky Mountains, and Mark Doherty.
At the conference Shelly Peterson will be presenting on the panel Going Green: Properly Designing a Greenhouse for Cannabis Cultivation on Tuesday, June 21 at 4pm. J. Chandler will be presenting on the panel The Wild West of Marijuana Pesticides on Wednesday, June 22 at 11:15am.
The following is an outline of what's on deck, and given the nature of tradeshows is subject to change. It will be sizzling, so you'll want to stay tuned.


Tuesday, June 21
2:50pm PT - Preview & Shelly Peterson with 4 Lighting Tips
3:50pm PT - Mark Doherty & Commentary on Opening Session Remarks
4:50pm PT - End of Day Wrap Up & J. Chandler on Eliminating Pests
Wednesday, June 22
10:50am PT - Todd Friesen & Cultivation
1:05pm PT - Steve Knauss on Procidic 2
2:05pm PT - Special Guest & California perspective
3:50pm PT - End of Conference Take-aways
To join in the live stream or watch these videos after the fact, be sure to "Like" urban gro on Facebook.
We invite you to follow urban gro on Twitter @urban_gro and find our company page on LinkedIn.
If you have specific questions you'd like to see us address, look for the posts about these Facebook live broadcasts an write them in the comments section.