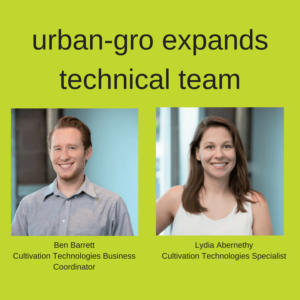 FOR IMMEDIATE RELEASE
Contact: Shawna McGregor
shawna@rosengrouppr.com, 917-971-7852
Lafayette, Colo. (October 31, 2016) – As the United States experiences rapid growth in the legal commercial Cannabis industry, urban-gro--the product solutions expert for the commercial Cannabis cultivator--has augmented its team with two new staff members including Cultivation Technologies Specialist Lydia Abernethy and Cultivation Technologies Business Coordinator Ben Barrett to the Lafayette, Colo., national headquarters.
"Commercial Cannabis cultivators are operating in 25 states and every state has a different regulatory environment," noted John Chandler, Vice President of Cultivation Technologies. "Our Cultivation Technologies team helps cultivators implement large-scale agricultural practices that will get their cost-per-pound down, while focusing on compliance in each jurisdiction."
Lydia Abernethy joins urban-gro with over five years experience as a plant researcher and scientist within FDA-regulated biopharmaceutical manufacturing, large-scale agrichemical, and horticultural industries. Her vast knowledge and understanding of Integrated Pest Management (IPM) and biocontrol systems serves urban-gro customers in the pursuit of sustainable, efficient and economic solutions to optimize cultivation. She has a degree in Biological Sciences from North Carolina State University with additional studies in Polymer and Color Chemistry and Calculus.
"I am passionate about validating our product solutions with peer-reviewed, scientific research and assisting cultivators in overcoming the challenges associated with growing Cannabis," Abernethy said. "urban-gro is making a nationwide impact in the Cannabis space by impressing the importance of appropriate horticultural practices and equipment to assist in the production of safe, effective medicine for patients and adults."
Chandler noted, "Lydia's experience within the horticulture industry, specifically her plant research and automation background, immediately made her an exciting new addition to our team. She brings qualifications and know-how to this flourishing industry."
Ben Barrett joins the urban-gro team with two years of business and production experience in agriculture. After earning a master's degree in physiology and biophysics from George Mason University, Barrett turned his attention to acquiring sales experience where he could apply his interest in biology and other sciences to the horticulture industry. In his current role, Barrett crafts irrigation designs, assists in the procurement of vendors, serves as a contact for customer inquiries, and more.
"I have witnessed the growth of Cannabis industry for the past several years," Barrett said. "I look forward to working with urban-gro customers and developing the best designs in this burgeoning market."
urban-gro will meet with the industry at many upcoming events including the Cannabis Sustainability Symposium (Denver, Oct. 26) where Chandler will present his expertise during the integrated pest management panel; CannaGrow Expo in Denver, Oct. 29-30 (Booth #403); the 5th Annual Marijuana Business Conference & Expo, Nov. 16-18, Las Vegas (Booth #501); NCIA's Denver 2017 Seed to Sale Show, Jan. 31-Feb. 1, 2017 (Booth #613); Cannacon Seattle, Feb.16-18, 2017 (Booth #400); and Cannacon Santa Rosa, April 20-22, 2017 (Booth #1004).
For more information or to schedule an interview, please contact Shawna McGregor, 917-971-7852 or shawna@rosengrouppr.com.


about urban-gro
urban-gro provides product solutions for the commercial Cannabis cultivator. We provide commercial grade LED and HPS grow light systems, integrated pest management, automated fertilization / irrigation solutions, and a complete line of water treatment solutions. We understand that each grow is unique and every facility presents a different set of opportunities and challenges. By taking the time to understand your unique circumstances, we offer customized product solutions to help you meet your cultivation goals. Visit www.urban-gro.com to learn more. Follow us on Facebook, Twitter, LinkedIn, and Google+.