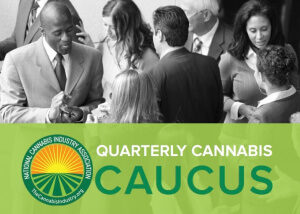 In April the second round of NCIA Quarterly Caucuses crossed the country from New York to Seattle visiting 12 cities over 3 weeks. Each meeting brought together community leaders in Cannabis as well as state and national government representatives. It was a great expression of their work to further "Advocacy. Education. Community."
urban-gro's team a Premier Sponsor and was in attendance in New York, Denver, Phoenix and Las Vegas. The sizes of the gatherings seemed to range from twenty to two-hundred. Our own regional sales directors, Todd Freisens for the Mountain Region presented in Denver, Mark Doherty for the Eastern Region in NYC, and Mike McGrew for the Southwest Region in Phoenix and our Cultivation Technologist, Lucas Targos in Las Vegas. They were pleased to share our passion for selling high quality Cannabis products, from lighting to pest management, including the latest release of Procidic², as the first legally labeled pesticide to prevent and cure powdery mildew.
Each state's events brought out well known and supportive lawmakers. There were common themes to each state's overall presentation, while it was also clear each state is in a different place in terms of its laws, how that've arrived to this point, and what their future initiatives are to move forward. How things continue to proceed in Washington D.C. will also impact what happens at these local levels.
NCIA, acting on behalf of the industry, has over 100 business members who are part of the association. With offices in Colorado and Washington D.C., they are advocating every day.
The legislative priorities for 2016 are:
Equal access to banking
280E Tax Relief
Federal DE-scheduling of Marijuana
In May, NCIA will hold their 6th annual Lobby Days, where every day Cannabis proponents are scheduled to meet with Congressmen and other law makers, to tell their stories, in an effort to solicit favor.
The potential appropriations provisions specifically include:
Reauthorization of Rohrabacher-Farr Medical Marijuana Amendement.
Restricting funding for Treasury Department Sanctions on banks that do business with state-legal marijuana providers.
McClintock-Polls Amendment barring DOJ enforcement against any state-legal Cannabis business.
Engaging officials to ask them to support pro-cannabis amendments.
On social media you can follow #CannabisCaucus #CannabisApprops @NCIAorg and @urban_gro.
urban-gro is very happy to support NCIA. With years of advocating and legislative victories, NCIA has paved the way for us to have a regulated medical cannabis industry that provides relief to patients, social justice and a thriving, professional industry.
On June 20-22, NCIA will hold their annual Cannabis Business Summit and Expo in Oakland, CA.