urban-gro to Provide Innovative
Lighting Solution for the Cannabis Industry
Soleil 315W CMH Light Fixture Now Available for the Cannabis Vegetative Growth Stage
Lafayette, Colo. (January 26, 2016) – As the Cannabis industry continues to bloom across the United States, Colorado-based urban-gro, a leader in large-scale lighting and pest-management product solutions for Cannabis grow facilities, has developed the next generation lighting solution for the Cannabis vegetative stage with the urban-gro Soleil® 315W Ceramic Metal Halide (CMH) system. The urban-gro Soleil 315W CMH light fixture utilizes the patented P.L. Light Systems reflector technology.
Vice President of Lighting Sales Shelly Peterson says, "P.L. Light Systems is a leader in the Cannabis indoor and greenhouse industry because of their unique reflector choices which spread the light in the most efficient way needed to maximize yields to cultivation facilities."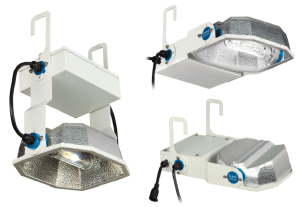 Reflectors are used to ensure that the light penetrates deeper into the crop canopy in the most efficient way possible. The aluminum reflectors are highly polished and anodized, and the microscopic small facets provide a diffused light pattern and discourage accumulation of deposits on the lamp.
urban-gro developed the specialized lighting system to address specific needs for the vegetative growth stage in Cannabis cultivation facilities, and the customizable mounting system ensures easy install and hanging in a variety of grow set ups.
Peterson continues, "As the sole U.S. distributor for P.L. Light Systems for the Cannabis industry, we are pleased to offer a fixture for the vegetative growth stage that complements the P.L. NXT2 double ended HPS grow system for the flower growth stage."
urban-gro will meet with clients to review their new service offerings at the upcoming Cannacon Conference in Seattle from February 18-20. Visit urban-gro at Cannacon Booth #448 and #205. Visit urban-gro at the Marijuana Business Daily's 2016 Spring Conference in Orlando from May 9-10 at Booth #700, and NCIA's Cannabis Business Summit & Expo 2016 in Oakland from June 20-22.
For more information or to schedule an interview, please contact Shawna McGregor, 917-971-7852 or shawna@rosengrouppr.com.
About urban-gro
urban-gro is a value added reseller of the best product solutions for the commercial cannabis cultivator, providing commercial grade grow light systems and integrated pest management products. We understand that each grow is unique and every facility presents a different set of opportunities and challenges. By taking the time to understand your unique circumstances, we are able to customize a lighting and pest management plan to help you meet your goals, maximizing efficiency and securing any eligible rebate offers. Visit www.urban-gro.com to learn how we can help you set up your new grow or improve your existing facility. Follow us on Facebook, Twitter, and Google+.