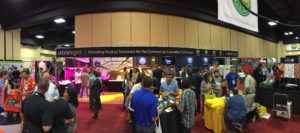 Lafayette, Colo. (September 7, 2016) – urban-gro, the product solutions expert for the commercial Cannabis cultivator, is featured among the industry's foremost cultivators and business leaders at the following events. Presenting the company's expertise in commercial grade LED and HPS grow lighting systems, integrated pest management (IPM), automated fertilization / irrigation solutions and water treatment solutions, urban-gro executives and team members will participate as exhibitors, panelists and speakers.
"The commercial Cannabis market is growing at an astounding rate," said Brad Nattrass, CEO of urban-gro. "As a nation-wide resource for cultivators, urban-gro looks forward to participating in the country's top Cannabis conferences and expos alongside other industry leaders."
urban-gro team members are participating at the following events:
Cannabis World Congress & Business Exposition (Los Angeles, Sept. 7-10): urban-gro's Cultivation Technologist Lucas Targos and Southern California Regional Sales Manager Kendra Minkler will present on Commercial Cannabis Fertigation: Automation, Efficiency & Precision on Thursday, Sept. 8 at 9:00am. CWCBExpo is the definitive business event for the Cannabis industry, featuring the latest technologies, solutions and resources for owners and managers of businesses in this fast-growing industry, and a wealth of opportunity and knowledge to those looking to enter the market with potential partners and investors.
National Cannabis Industry Association (NCIA) Fourth Quarter Caucuses: Designed to educate, connect and inspire Cannabis business leaders, each Caucus offers a customized state and federal policy overview, industry networking and a platform to voice concerns and share successes. urban-gro will sponsor and participate in Fourth Quarter Caucuses in Baltimore (Oct. 11), Boston (Oct. 13), Phoenix (Oct. 20) and Long Beach (Oct. 25).
Arizona Cannabis Conference & Expo (Phoenix, Oct. 15-16): John "Chandler" and Shelly Peterson will discuss the best solutions for minimizing Cannabis cultivations' environmental impact and remaining compliant while managing pests. In addition to supporting conference speakers, urban-gro will exhibit at booths 911-917.
2016 Cannabis Sustainability Symposium (Denver, Oct. 26): The Cannabis Sustainability Symposium, hosted by the Organic Cannabis Association with in-kind support from Denver Environmental Health, will educate attendees on the latest tools, techniques and technologies for efficient and safe Cannabis production. The event convenes top experts from across the country to present on the industry's key environmental challenges, including energy efficiency, water management and waste minimization. Chandler, an organic farmer and the only Certified Crop Advisor in the Cannabis industry, will present his expertise during the integrated pest management panel.
CannaGrow Expo (Denver, Oct. 29-30): urban-gro will exhibit at Booth 403 at this two-day educational expo dedicated to the art & science of growing Cannabis. The CannaGrow Expo is targeted to the Cannabis grower, grow managers, and dispensary owners, and grow enthusiasts to explore the latest Cannabis cultivation technology, tools and techniques. CannaGrow Denver will feature an expo hall full of the latest tools & technology for growing Cannabis.
Marijuana Business Conference & Expo (Las Vegas, Nov. 16-18): As America's fastest growing trade show, the 5th Annual Marijuana Business Conference & Expo will feature over 300 exhibitors, including urban-gro. urban-gro team members will exhibit product solutions for cannabis companies nationwide at booth 501.
NCIA's 2017 Seed to Sale Show (Denver, Jan. 31-Feb. 1, 2017): The nation's leading cultivators, dispensary operators, extraction artists, and infused product manufacturers will convene to discuss best practices, present case studies, and share information about emerging technology surrounding the whole life cycle of the Cannabis plant grown, processed and sold in a regulated market. Urban-gro will exhibit at booth 613.
Cannacon Seattle (Seattle, Feb. 16-18, 2017) & Cannacon Santa Rosa (Santa Rosa, April 20-22, 2017): As a global venue for Cannabis entrepreneurs, investors and community members, Cannacon features the industry's leading products, people and innovations. In Seattle, urban-gro will educate attendees on the highest-quality product solutions at booth 400. In Santa Rosa, urban-gro will be featured at booth 1005.
For more information or to schedule an interview, please contact Shawna McGregor at 917-971-7852 or shawna@rosengrouppr.com.
ABOUT URBAN-GRO
urban-gro provides product solutions for the commercial Cannabis cultivator. We provide commercial grade LED and HPS grow light systems, integrated pest management, automated fertilization / irrigation solutions, and a complete line of water treatment solutions. We understand that each grow is unique and every facility presents a different set of opportunities and challenges. By taking the time to understand your unique circumstances, we offer customized product solutions to help you meet your cultivation goals. Visit www.urban-gro.com to learn more. Follow us on Facebook, Twitter, LinkedIn, and Google+.