urban-gro's Director of Environmental Sciences, Todd Statzer speaks with Marijuana Business Magazine's Bart Schanerman on odor and microbial control for commercial cannabis cultivations.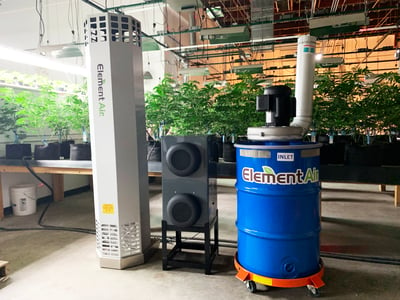 THE FOLLOWING IS AN EXCERPT FROM THE ARTICLE ORIGINALLY PUBLISHED IN MARIJUANA BUSINESS MAGAZINE
Even if you love the smell of cannabis, your neighbors or nearby business owners might not. Depending on where a marijuana cultivation operation is located, local ordinances might require business owners to mitigate or control the odor. Businesses also might want to control odors just to be a good neighbor and foster positive relationships in the community.
A number of options exist for odor control, but cultivators will want to find one that doesn't negatively alter the environment in the grow facility or affect plant health and product quality.
Growers also want to be aware of construction quality at the grow site. Corners should be square and doors and windows should seal to prevent any telltale marijuana smells from escaping.
.Todd Statzer, director of environmental sciences for urban-gro, based in Lafayette, Colorado, goes a step beyond carbon filters. He doesn't like the ongoing maintenance that's required to keep them clean, and said carbon filters remove only odor. Statzer uses them as a supplement to another piece of equipment.
His team uses a purification system called Element Air that's mounted in the air ducts to help control microbials, including mold and mildew, as well as the outgoing cannabis aroma.
Read the full article on Marijuana Business Magazine or Download the PDF Here