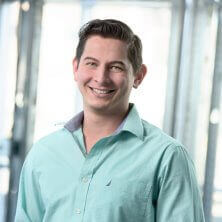 PHOENIX (March 23, 2016) – urban-gro, the product solutions expert for the commercial Cannabis cultivator, is strengthening its sales team with the addition of Michael McGrew as Regional Sales Manager for the Southwest region, including Arizona, Nevada and New Mexico.
In the Cannabis industry, growers can face cultivation and lighting challenges that affect million dollar crop harvests. "My mission is to develop trusted relationships with the growers by supplying scientifically evaluated and approved products for Cannabis, augmented by the most well informed Cannabis product specialists," McGrew said. "urban-gro takes care of the details so the growers can concentrate on their crops."
McGrew joins urban-gro with a background in horticulture lighting and cultivation. Most recently, McGrew was Sales Account Manager for Indoor Grow Science, where he was responsible for a diverse clientele base throughout the United States, Canada and Europe in order to launch and sell new products in the emerging Cannabis industry, through both electrical and hydroponic distribution channels. McGrew also informed sales agents on their state policy for the medical/recreational Cannabis industry, and educated them on the company's products.
"Mike's passion for the Cannabis industry and his proven ability to foster meaningful relationships makes him the ideal fit for this position," said Brad Nattrass, CEO of urban-gro. "As the Cannabis industry flourishes, urban-gro sees the Southwest region as a key zone for new Cannabis operations. Mike's appointment ensures that urban-gro will have strong market representation for our customers."
The medical Cannabis industry has seen solid growth in the Southwest region of the United States since 2010. In January 2016, Arizona reported over 92,000 active cardholders across the state, an increase of 8 percent since the September 2015 report. Additionally, industry stakeholders believe there is a strong possibility that a recreational Cannabis measure will be added to November's ballot. This will further increase growth and opportunities within the state.
urban-gro will meet with customers at Marijuana Business Daily's 2016 Spring Conference in Orlando from May 9-10 Booth #700; NCIA's Cannabis Business Summit & Expo 2016 in Oakland from June 20-22 Booths #122-123; Imperious Expo in Tacoma, Wash., July 20-21; and the 5th Annual Marijuana Business Conference & Expo, November 16-18, Las Vegas, Booth #501.
For more information or to schedule an interview, please contact Shawna McGregor, 917-971-7852 or shawna@rosengrouppr.com.

ABOUT URBAN-GRO
urban-gro provides product solutions for the commercial Cannabis cultivator. We provide commercial grade LED and HPS grow light systems, integrated pest management, automated fertilization / irrigation solutions, and a complete line of water treatment solutions. We understand that each grow is unique and every facility presents a different set of opportunities and challenges. By taking the time to understand your unique circumstances, we offer customized product solutions to help you meet your cultivation goals. Visit www.urban-gro.com to learn more. Follow us on Facebook, Twitter, LinkedIn, and Google+.
FOR IMMEDIATE RELEASE
Contact: Shawna McGregor
shawna@rosengrouppr.com, 917 971 7852